PITTSBURGH, PA – October 27, 2017 - Credit Management Company, a collection agency providing business partners with optimum accountsreceivable management, debt recovery, and customer care programs hosted a "pink day" at their company headquarters in Pittsburgh, PA on Friday, October 27, 2017.
In an effort to raise awareness and join the fight in finding a cure against breast cancer, Credit Management Company announced that it would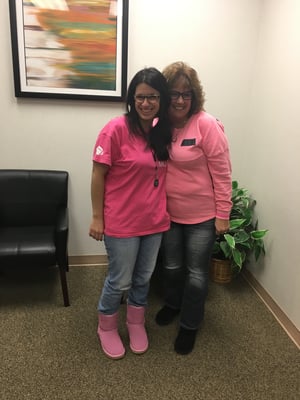 be selling pink Breast Cancer Awareness wristbands for $1 each. All proceeds were sent to the National Breast Cancer Foundation.
This is the first year that Credit Management Company has participated in raising money for the foundation and has plans to make it an annual event.
"Our agents have such good hearts and are always eager to contribute. I was blown away with the amount of people who contributed in donating to the cause, and I think that everyone really liked dressing up for our 'pink day'. We are all looking forward to next year's event," said Brady Dolan, Sales Support Manager at Credit Management Company.
About Credit Management Company
Credit Management Company (CMC) is well known for delivering exceptional outcomes for healthcare clients. Our clients range in size and service offerings, but all experience the same exceptional results when partnering with us. We have been serving the healthcare market for over 50 years and healthcare clients make up 91% of our overall portfolio – healthcare knowledge in our call center is second to none. CMC also provides debt recovery and collections for the government, higher education, financial services and commercial sectors.
About National Breast Cancer Foundation, Inc. ®
Recognized as one of the leading breast cancer organizations in the world, National Breast Cancer Foundation (NBCF) is Helping Women Now® by providing early detection, education and support services to those affected by breast cancer. A recipient of Charity Navigator's highest 4-star rating for twelve years, NBCF provides support through their National Mammography Program, Patient Navigation, Beyond The Shock®, breast health education and research programs. For more information, please visit NBCF.org.