Insufficient cash flow is a financial problem that all companies experience at one time or another. Everything from waste and inefficiency to poor sales and conversions can cause this problem, but the failure of clients or customers to pay what they owe is a unique issue with a clear and effective solution: professional debt collection. Lack of payment from products and services already delivered can make it very difficult to continue doing business, so it's the responsibility of debt collection agencies to increase the flow of revenue so that you can meet payroll and fulfill your other financial obligations.
Types of Businesses that Benefit from Debt Collection
Any business with a shortfall in their accounts receivable can likely benefit from working with a professional debt collection agency. Hospitals and other healthcare providers are the most common type of organization with this problem, yet many of them have yet to get the help they need. As patients become more responsible for contributing money directly for their care, the problem will become even more pronounced. Collection agencies help enhance the relationship between provider and patient so that patients are more likely to pay their bills.
While healthcare providers are most commonly associated with debt collection, lenders, manufacturers, service companies, retailers, contractors, and even independent contractors can benefit. In any type of business where you don't expect to get fully paid upfront, invoices can be left unfulfilled. Finding the resources to collect on your own can be very cumbersome, but an agency can offer the help you need without requiring a huge investment.
Why Professional Collectors Have More Success
Professional collectors have more success collecting bills because they have more experience and access to resources than what you'll find in a typical accounts receivable department. An agency will use a wide range of tactics to get people and companies to pay their bills, including:
Using special tools to locate hard-to-find contacts
Offering online payment options
Prioritizing accounts most likely to pay
Monitoring when certain debtors become solvent
Beyond these tactics, professional collectors know how to speak with debtors in a way that encourages payment. This often means helping the client, customer, or patient discover the real value in resolving their debt.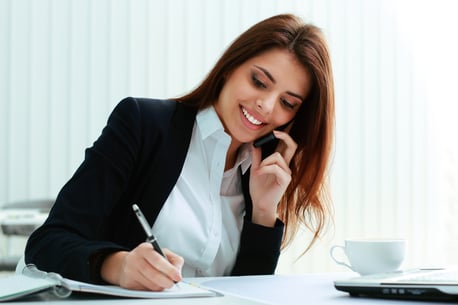 Redirecting Your Resources to Sales and Customer Service
Outsourcing your debt collection efforts has another major benefit beyond getting your unpaid bills paid. Employees that might have spent a lot of time trying to collect could refocus their efforts in making sales calls or improving marketing efforts. By giving your staff the freedom to do what they do best, they're much more likely to be highly productive. They'll also be happier as collecting can be a stressful activity for people who aren't trained to do it professionally.
Return on Investment
Maybe you're convinced that a debt collection agency could help your cash flow, but you're wondering what the real return on investment is for your company. According to ACA International, the debt collection industry earned $67.5 billion for creditors in 2016 while only charging $10.9 billion in commissions and fees. This means, on average, that a third-party collector gets $7 for their client for every $1 they charge. More than 70% of these collections are made on debts that are more than 90 days old, so you can expect to get a good return even on accounts that are often considered bad.
Concerns About Debt Collection Agencies
Some companies are concerned about working with a debt collection agency because of some myths about the industry. Not only does federal law prevent agencies from using threatening or abusive tactics to collect, but it's in the agency's best interests to use positive techniques that enhance the reputation of the client. There's no reason to be concerned that working with a collector will harm the relationships you have with your clients or customers. They will usually work with your debtors to make arrangements that maintain long lasting relationships.
If you're ready to fix your company's cash flow problems caused by unpaid accounts, outsourcing to a debt collection agency may be your best option. A professional collector can become a long-term partner in the success of your business. We would love speak with you to see how we can help. Submit your information to us and we will respond within 24 hours.