While on the campaign trail, President-elect Joseph Biden was critical of the Trump administration's response to the COVID-19 pandemic. What does he plan to do differently, and how might it affect your organization?
The Biden-Harris Transition website states a seven-point plan to address COVID-19. Some of his proposals—like providing hospitals with more personal protective equipment—will directly help healthcare organizations. Other parts will impact your organization indirectly.
Let's take a closer look at three of the new administration's plans for fighting the pandemic and what they could mean to you.
Expand Health Insurance
The pandemic is much more than a public health crisis.
NBC News reports that 787,000 Americans filed for unemployment in the last week of 2020. Photos of long lines outside of food banks and stories about Americans struggling to pay their rent affect all of us on an emotional level.
Aside from suddenly not having an income, losing a job often means losing health insurance. And without health insurance, medical emergencies can force an individual to seek care without the ability to pay for it, leaving you with bad debt.
One of the biggest changes we could see with a Biden administration is how Americans access health insurance.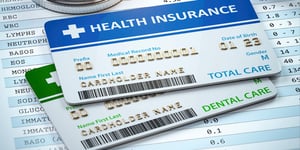 According to the PwC Health Research Institute, an estimated 18 million Americans lost their employer-sponsored insurance in 2020. That translates to approximately 10.5% of people who received their health insurance through their employer before the pandemic.
Since many Americans receive their health insurance through their employer, President-elect Biden's proposal to provide 100% reimbursement for COBRA coverage for Americans who lose their job and lose their insurance will be a win for both individuals and healthcare organizations.
PwC estimates that if President-elect Biden's proposals become law, 97% of Americans would have insurance coverage.
Two of the ways his plan would expand healthcare insurance include increasing tax subsidies for health plans purchased on the Affordable Care Act and lowering the age for Medicare eligibility from 65 to 60.
Aggressive Vaccination
The Trump administration's "Operation Warp Speed" initiative quickened the pace for the COVID-19 vaccine.
Yet the CDC reports just 2.1 million Americans received their first shot by the end of 2020. President-elect Biden was quoted in Politico saying he has directed his team to "prepare a much more aggressive effort with more federal involvement and leadership to get things back on track."
According to CNN, President-elect Biden wants 100 million doses of the COVID-19 vaccine administered in his first 100 days in office.
Vaccinations can help stop the spread, which in turn, can free healthcare organizations to spend less time treating COVID-19 patients and more time performing elective surgeries.
Provide More COVID-19 Testing
While the vaccine is good news, it will not end the pandemic any time soon. The Biden-Harris Transition website lists several ways they plan to provide free testing to all Americans.
Part of this plan includes doubling the number of drive-through testing sites and creating a U.S. Public Health Jobs Corps. This new organization would mobilize at least 100,000 Americans to work in at-risk communities providing contract tracing and other services.
It's impossible to predict which parts of President-elect Biden's plan will become a reality. However, we're committed to keeping you informed of changes that matter to your cash flow.
Contact Us For Your Debt Collection Needs
To learn more about Credit Management Company and how we can help you navigate this pandemic, contact us.