According to industry research, nearly half of all cell phone calls in 2019 will be scam calls. As more Americans become aware of this problem, they become more likely to avoid any phone interaction involving money. For some debt collectors, this can be a big problem. While collecting medical debt is not a scam, many collectors are unaware that they behave in a way that's similar to scams. By avoiding some common scammer tactics and behaviors, our agents display their legitimacy and gain trust with the people they call. This improves the success of collections we are able to receive for our clients.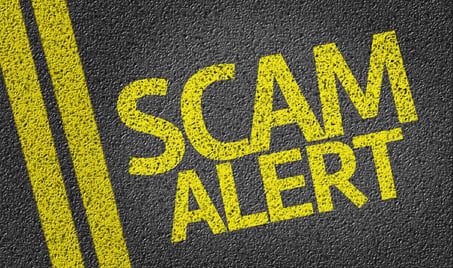 Credibility and Professionalism
Most scammers are looking for a quick buck and it shows in a variety of ways. They do not speak in a courteous, professional manner and they are usually rude or threatening. To save money, scammers will also hire non-native speakers who don't match the facade of the scam they're attempting to execute. CMC patient account representatives showcase their legitimacy by speaking in a professional and courteous manner to patients. When asked, they are able to provide information about their personal collection practices or the details of the company that employs them. Our patient account representatives do not threaten, shame, interrogate or otherwise show hostility toward the debtor. Collectors can communicate urgency without being aggressive or abusive.
Documentation and Details
Scam callers may have a limited amount of information about the person they're trying to scam, but they will lack the details to appear authentic. For example, the Equifax breach provided names, addresses, and social security numbers of about 150 million Americans for use by the criminal community. A scam artist can get pretty far with this information, but without supporting details of an account, they won't have a very high success rate. Our patient account representatives are able to provide all the details of the debt, including the original source, exact amount, date, and in the case of medical debt, the type of services provided. When a person can connect a collection action with a real-life event, they will feel more responsible for paying.
Maintain Communications
In order to avoid detection, scam calls typically operate on a hit and run basis. They will call their target once or twice using aggressive tactics and then go away. If a debt collector operated the same way, their success rate would be very poor. The goal of our patient account representatives is to establish a positive relationship with the person in debt so that they are more willing to make payments. They should communicate that paying off debt is in the best interests of both parties, and by working together, they can close the account and get the debt off of credit reports.
Claiming Authority
A common phone scam in the last few years is for someone to pretend that they are an agent from the Internal Revenue Service and demand payment for unpaid taxes. Since many people are afraid of the penalties that the IRS could enforce, they comply with the scam. Our patient representatives will never pretend to be any type of law enforcement agency or agent. Not only will doing this get the collector labeled as a scammer by many debtors, but it is an illegal act that can incur severe penalties. Our collectors also avoid saying that they will report the debtor to a law enforcement agency.
Providing Options
When a scam caller attempts to collect money from their victim, they usually request very specific methods of payments. They do this to avoid detection from law enforcement. Debt collectors have no reason to behave this way, so they should be as flexible as possible with their payment options. By providing online payment options, automatic billing, and flexible scheduling, the debtor may feel more comfortable paying off their debt.
Sometimes it's impossible to avoid appearing like a scam call, especially for inexperienced staff at medical providers. This is why many healthcare facilities outsource their debt collections. A third-party company will already have established practices that make them distinct from scammers. CMC trains our new employees on the ethical practices and high compliance standards of debt collection in order to ensure patients are treated with respect.
Automated Technology
Criminals have a low success rate with their scam calls, so they need to place as many as possible to reach their goals. That's why many of them will use robocalling technology. Collection Agencies will also use automated technology for efficiency purposes, however, keeping the other factors listed in mind will help you to accurately determine the scam robocalls versus the true collectors that are wanting to work with you on your debts owed. When an agency uses automated technology, they are better able to control best times to reach a person, making the experience better for the patient.
With the increase in scam calls, you want to be proactive and aware of the various ways to spot if you are being scammed. Your personal information is not something to give away lightly, but if you do have a debt owed, it is in your best interest to pay that debt, so be aware of these differences. Our focus is to help the patient feel comfortable, yet ensure payments to the facility in which payment is due. Having high ethical standards and a strong training program in place is why CMC is able to have such a high recovery rate on debt. You can view our many testimonials here.