Even before the pandemic hit, healthcare providers have known the importance of being respectful when contacting patients about outstanding bills. As a professional, you know better than to threaten or harass patients. If a person asks that you not call them at work, you honor that wish.
Now, there are additional steps you must add to your debt collection practices.
Late last year, the Consumer Financial Protection Bureau (CFPB) announced the Final Rule that debt collectors must follow under the Fair Debt Collection Practices Act (FDCPA). The Final Rule was published on November 30, 2020, and it goes into effect one year from that date.
You can read the entire document on the Federal Register. In this article, we'll focus on a few of the highlights.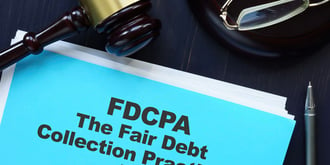 Updated Ways to Communicate
Many other types of businesses have integrated text messaging and emails to communicate both internally and externally. For example, medical offices often send text messages to their patients to confirm appointments.
Now, the CFPB has given debt collectors the ability to use these electronic forms of communication.
When using email and texting, debt collectors must honor the consumer's desire to receive messages in that format. When sending a message via email and text, it must be clear how the patient can opt-out of receiving further emails and text messages. After all, some consumers are charged a fee for texting from their wireless carrier.
As for email, collectors can only use a personal email address. T
he Final Rule prohibits contacting a person at the consumer's employer email.
Detailed Disclosures
As soon as a debt collector starts communicating with a consumer, they must provide detailed disclosures. The Final Rule states more information must be provided then what collectors are currently required to provide. This information must:
Include the consumer's debt and rights in debt collection

Explain that this is from a collector and is about debt

Be written in plain language

Include the right to dispute the debt

Provide information to help the consumer respond
Before reporting the debt to a consumer reporting agency (CBA), the debt collector must take specific steps to disclose the existence of a debt to consumers. They can communicate this either orally, in writing, or electronically. If they use a paper letter or an email, they must wait a "reasonable period of time"—approximately 14 days—before sending their information to the CRA.
Social Media Usages
If you are trying to contact a person who doesn't respond, you might be tempted to find them on Facebook or another social media platform. The Final Rule prohibits this. A debt collector cannot contact a person regarding the collection of a debt if the message would be viewable by the person's social media contacts or by the general public.
Time and Place Restrictions
According to the Final Rule, consumers can restrict the times and places they are contacted without having to use specific words. Also, debt collectors must now pay attention to time zones.
Calls from debt collectors are restricted to between 8:00 a.m. and 9:00 p.m.in the time zone where the consumer is located. That means you cannot make assumptions based on the area code of a phone number.
These time and place restrictions also apply to electronic communications.
Contact Us For Your Debt Collection Needs
To learn more about Credit Management Company and how we can help you understand these recent changes, contact us.