Coronavirus (COVID-19) is back with a vengeance (even though it never really left), and 2020 has finally come to an end. With the changing weather and social implications of the holidays, Covid is once again surging, and as always, a new year presents new financial challenges.
So, how can you brace your revenue cycle in preparation for the new year, and another potential COVID surge? That's exactly what we'll cover in this article.
Set Your Revenue Cycle up for Success from the Get-Go: Automate, Automate, Automate
Automation has many benefits - including reduction in time and less potential for human error. According to RevCycleIntelligence, research has shown that less than 20% of healthcare organizations have automated over 25% of their revenue cycle processes. This means that the majority of financial and revenue cycle processes at most hospitals are nowhere near as efficient as they could be. While automation of processes initially takes an investment of time and money, it will pay off in the long run for your organization. Consider automating in phases, and evaluating where your revenue cycle needs the most help.
Focus on Short-Term Goals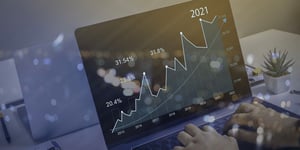 Because of COVID-19, there has been a decrease in 30-day-old receivables, according to Optum. That means all the benchmarks set up previously before the pandemic took hold need to be reevaluated, and any new goals you are looking to set must be realistic.
Set smaller, short-term goals with your staff. Keeping your goals where they were before the pandemic will stress everyone out and decrease morale during a time where most are already struggling. Make sure your staff is on the same page and knows exactly what is expected from them. This will make everything seem much more manageable and keep your staff—and as a result, your revenue—steadier.
Clean Up All Accounts—Even If They're Small
With COVID-19 putting a dent into all our thought out plans and goals, you might think the best approach for accounts receivable would be to try to collect the largest debts. However, during a time like this especially, every penny counts.That's why it's important to attempt to collect on all accounts, no matter how small.
Choose the Right Partner: Contact Credit Management Company
As is the case with all business partners, your revenue cycle vendor can be the make or break point for your financial success. As they will be acting as an extension of your business office and representing your name, it's important that you trust your partner to act in your best interest. With 54 years or experience, Credit Management Company is proud of the relationships we forge with our clients. To learn more about how we can improve your revenue cycle in the new year, contact us.