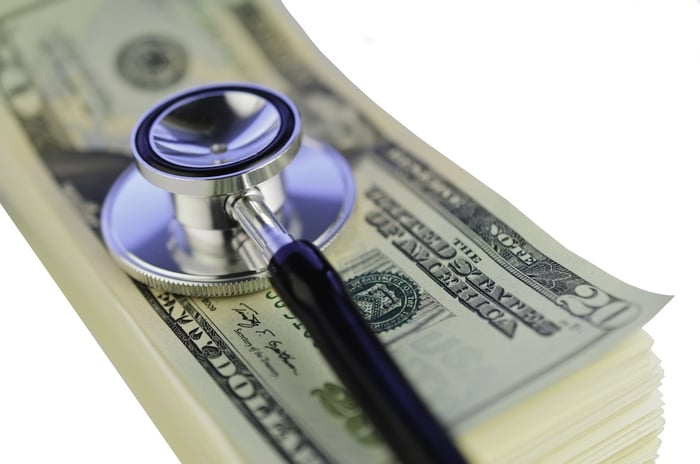 As healthcare costs continue to rise, patients are taking on more and more of the responsibility for those costs in the form of higher copayment, deductibles, and premiums. In fact, patient responsibility is now the number three payer, behind Medicaid and Medicare, according to a recent TransUnion Healthcare analysis. The study, which was presented at HIMSS18, revealed that patients' average out-of-pocket medical expenses were $1,813 in 2017 – an increase of 11 percent from the fourth quarter of 2016.
As patients bear a larger burden of medical costs under high-deductible health plans (HDHPs), healthcare providers are experiencing increased difficulty in collecting outstanding balances. According to the American Hospital Association, community hospitals provided 38.3 billion in uncompensated healthcare (care for which no payment was received from the insurer or patient) in 2016 alone. And the percentage of patients failing to fully pay their healthcare costs is growing. Bad debt write-offs have doubled in recent years, with the majority of the write-offs attributed to the under-insured, and 81 percent of "true" self-pay responsibilities are never recovered.
How are Healthcare Providers Responding to Increasing Patient Responsibility?
The increase in patient responsibility when it comes to shouldering the costs of healthcare presents several unique challenges to healthcare providers. Since providers will have more of their revenue coming directly from patients, it's crucial to have the proper systems and procedures in place for collecting on outstanding accounts.
One of the major challenges that providers face in responding to the growing number of self-pay responsibilities is the lack of client-facing financial responsibility tools. Successfully collecting patient receivables requires technology that accurately tracks past due balances, which many providers don't have.
Another challenge in responding to growing patient financial responsibility is the continued use of paper-based billing methods. An MGMA and Navicure survey revealed that less than 25 percent of providers offer electronic billing to their patients, despite more than one half of patients preferring to receive their bills via an app, a website, or a patient portal.
Cost estimation is another area in which researchers say healthcare providers are falling short. According to a 2016 Porter Research and Navicure survey, approximately 63 percent of providers fail to provide transparent pricing.
A Paradigm Shift is Needed
If there's one thing the statistics on rising healthcare costs and growing patient responsibility make starkly clear, it's this: self pay is not going away. In fact, it is estimated that by the year 2024, $1 of every $5 spent in the U.S. will be on healthcare. As patients assume more and more of their own medical costs, healthcare providers will need to be more vigilant about collecting payments. This may mean collecting payments up front, investing in automated patient billing and collection technology, or involving patient-facing staff in the effort to prioritize collections.
Handling patient receivables in house comes with its own unique challenges, however, which is why researchers say turning to a third-party credit and collection service provider is a great way to establish medical billing processes that benefit both the patient and the provider. Despite the more impersonal approach, many practices find that working with a third party solution can help preserve the provider-patient relationship while reducing staff workload and decreasing the costs involved in successful collections.
In this era of patient responsibility, it's important that practices have a well-considered self-pay policy in place. Successful providers will have the tools and resources to engage patients in the cost estimation process and be willing to make patients' financial accountability a priority. Transparency in pricing and billing are key, as patients who know exactly what is expected of them are more likely to pay on time.