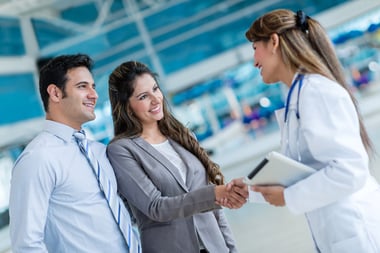 When you have accounts that you have trouble collecting on, you always have the same question: When should I send this account to a bad debt collector? Day 90? Day 120? This is any provider's quandary and unfortunately there is no definitive answer. There are several determining factors that must be considered. Naturally, any agency advocates sending them as early as possible since the best time to collect is in the first 90 days, but that might not be your best answer. We've highlighted three things to consider when deciding when to send accounts to bad debt.
Insurance Follow Up Process
If you have a strong insurance follow-up team, you will save yourself money in fees if you work the account in house longer. Your team will be able to collect from the insurance carriers directly and only turn accounts over to bad debt once they are true self pay. Secondary insurance follow-up is typically less profitable for a provider to work in-house. Agencies are now set up to automate the billing process for a lot of insurance carriers and can save you substantial labor costs. Having a plan early in the collection process will yield a higher chance of collecting a balance.

Bandwidth
Once the account is determined to be self-pay, is your team large enough or as well trained as an agency's collection team? Depending on the volume of accounts, your team may not be able to work each account. The longer accounts are kept in house without being worked, the less likely you are to receive payment. Utilizing an agency earlier in the process will expedite payment and lessen bad debt write offs. Collection agencies not only increase payments, but they also resolve more accounts because they reach a greater volume of people. The accounts can be resolved because the patient qualified for charity care, the charges should have been adjusted because of billing errors, the agency discovered insurance, the patient already paid the charge, etc. Assessing the capabilities of time and resources early in this process could potentially increase your bottom line in the long run.
Technology and Experience
Automation alone, available to any sizable collection agency, is better and faster than most provider systems. Agencies can attempt to contact any account, regardless of balance, faster and with more frequency, than a provider's system that was typically developed as a billing system not a collection system. Agency systems are built for precise follow-up, not just for billing. That is especially true for monitoring payment plans. An agency will see the broken plan the very day it breaks, rather than the next time an in-house collector is available to get to it. Experience in understanding how to talk with patients and working with them to either pay the bill in full or create a payment plan that works for both parties is so important. People are more willing to pay their bill when they are working with someone who can relate to them and treat them with empathy and respect. Learn more about some of the technology we utilize here.
The bottom line is most companies do not have the resources or employees to be able to collect on past due accounts. Credit Management Company can handle accounts much more effectively, cost-wise and time-wise, because of our experience. We take the worry of collections from you so you can focus on the many other important focuses you have. We would love to meet you to learn more about your business and how we can help you. Contact us here.