COVID-19 has disrupted the operating procedures for practically every industry. Everything—how children learn, how many of us are performing our jobs and how we can receive healthcare—has to some degree, moved online.
Some argue that this health crisis has forced changes to be embraced at a much quicker pace. According to McKinsey, "a new survey finds that responses to COVID-19 has sped the adoption of digital technologies by several years—and that many of these changes could be here for the long haul. "
The perfect example is the increased use of telehealth.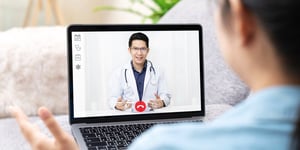 Telehealth grew in popularity during the pandemic for two reasons. First, some states were dealing with a shortage of health care providers before COVID-19. And second, some patients wanted to refrain from in-person visits because of safety concerns.
While the increased use of telehealth can be beneficial—for both consumers and health care providers—what does this mean for telehealth reimbursement? Here's a look at how some states are dealing with the reimbursement issue.
New York Addresses Telehealth Reimbursement
New York has proposed legislation to permanently reform its telehealth policy. Specifics of this proposed legislation are explained in Becker's Hospital Review.The goal of this legislation is to ensure fair reimbursement, limit barriers to access for remote medical services and encourage technology improvements in healthcare.
This proposed legislation would improve telehealth reimbursement in the following ways:
Require commercial health insurers to offer members a telehealth program

Require providers to disclose in writing or via their websites if they provide telehealth services

Guarantee telehealth services are reimbursed at rates that incentivize their use

Require Medicaid to reimburse telehealth services, regardless of where the patient or provider is located

Encourage insurers to give providers direct reimbursement for remote consultations
This proposed legislation also looks at ways to expand the use of technology in healthcare. This includes helping to onboard underserved populations with telehealth tools, allowing certain unlicensed staff to deliver remote mental health and substance use disorder services during the pandemic and other changes to enhance care.
Other States' Telehealth Reimbursement
Currently, every state has different laws, regulations and policies in place for Medicare and Medicaid reimbursement.
The Center for Connected Health Policy reports that before the pandemic, only six states had comprehensive payment parity laws before the pandemic. More and more states are looking at requiring that private insurance and Medicaid provide the same reimbursement for both in-person and telehealth services.
According to the National Telehealth Policy Resource Center, 43 states and the District of Columbia have laws that govern private payer reimbursement of telehealth.
Contact Us For Your Debt Collection Needs
To learn more about Credit Management Company and how we can help you navigate changing government regulations, contact us.